LG GDK 100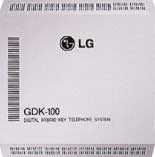 The path to the future
LG GDK 100 Phone SystemThe LG GDK 100 Phone System is a mid range, Digital Office Phone System that provides a smooth integration of ISDN and analogue services.
The LG GDK 100 is ideal for organizations with up to 48 lines and 136 extensions.
It is designed to offer total hardware and software flexibility, allowing configurations to be matched perfectly to your requirements.
Typical Features of GDK-34i / 100 / 186 Phone Systems

System Features

Account Coding

Headset Capability

Alpha Tagging of CLI/DDI

Hunt Groups

Authorisation of Code/Password

ISDN2 (So Bus)

Auto Attendant

Leased Cost Routing (LCR)

Auto Call Distribution (ACD)

Music on Hold

Call Back

Network Between GDK Systems (QSIG)

Call Barring

Paging

Call Logging

Remote Programming

Computer Telephony Integration (CTI)

Speed Dial

Conference

Traffic Analysis

Data Line Security

Trunk to Trunk Transfer

DECT GAP

Voice Mail Integration

Flexible Ringing (Line)

Walking Class of Service

Differential Ring (Digital Key Telephones)

Line Features

AC15 TIE Lines

Incoming Line Off-Net Call Forward

Call Divert

Line Name Assignment

Call Park

Line Groups (Multi-Tenancy)

Call Transfer

Key Telephone Features

Background Music

Hands Free Answer Back

Call Back

Group Call Pickup

Do Not Disturb

Message Waiting

Hands Free

Executive Display Features

Calling Line Identification Presentation (CLIP)

Connected Line Presentation

Calling Line Identification Restriction (CLIR)

LCD Display

SLT Features

Call Forward

Hot Line / Warm Line

Call Transfer

Speed Dial Access

Call Waiting