The KX-NT700 is an advanced conferencing solution that can connect over IP networks or even the public switched telephone network. This Multi-party IP Conferencing Phone supports Hi-Definition sound and makes communications as simple as a face-to-face meetings. It even connects with standard office telephone systems for seamless inter-working. KX-NT700, a valuable asset to help you collaborate across your board rooms, or around the globe.
High Definition Voice Quality
Using a wideband speech codec (G.722[16KHz sampling]), audio during VoIP is transmitted in high quality, making conferences seem "face-to-face".
Full Duplex Acoustic Echo-Canceller
Owing to the latest echo cancelling technology, conversations are clearer than on analogue conference calls.
Simple Video Conferencing System
Conference Phone Manager bundled software supports simple video conferencing and peer to peer connection. Furthermore, you can also simultaneously use other functions on your PC such as application sharing, and whiteboard. This lets all of you refer to the same documents or information on both ends of the line, making your enhanced video conference call more effective.
Mic Noise Cut

By cancelling out ambient noise such as the drone of LCD projector fan, conversations are clear and conferences can proceed smoothly.
Speech Speed Conversion

Other parties are slowed to a loud and clear speaking speed by expanding audible segments and compressing inaudible segments without altering the overall duration of spoken tracts during conversation.
Examples
For when the other party speaks too quickly to understand.
For when the other party speaks in a language that is not his or her native language, making it difficult to follow.
Conference Recording with SD Memory card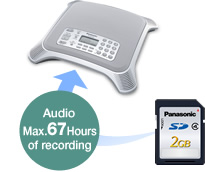 Calls can be recorded on SD card. PCM (pulse code modulation) recording is used, making playback on PC simple and easy. Recording time depends on SD card capacity. (A 2GB card allows about 67 hours of recording.)
3-Party Conferencing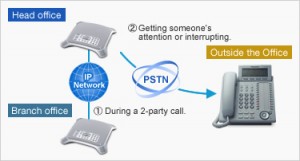 Head office / Branch office A / Branch office B
KX-NT700 can simultaneously establish 1 IP channel and 1 analogue connection. An IP connection can simultaneously connect to 2 channels for 3-party conferencing.
Easy to Carry & Setup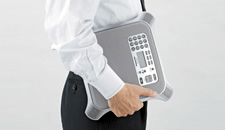 The KX-NT700 is light and simple to set up.
Relationship with Panasonic IP PBX (KX-TDE, NCP series)

The KX-NT700 operates as SIP extension of PBX and analogue extension.